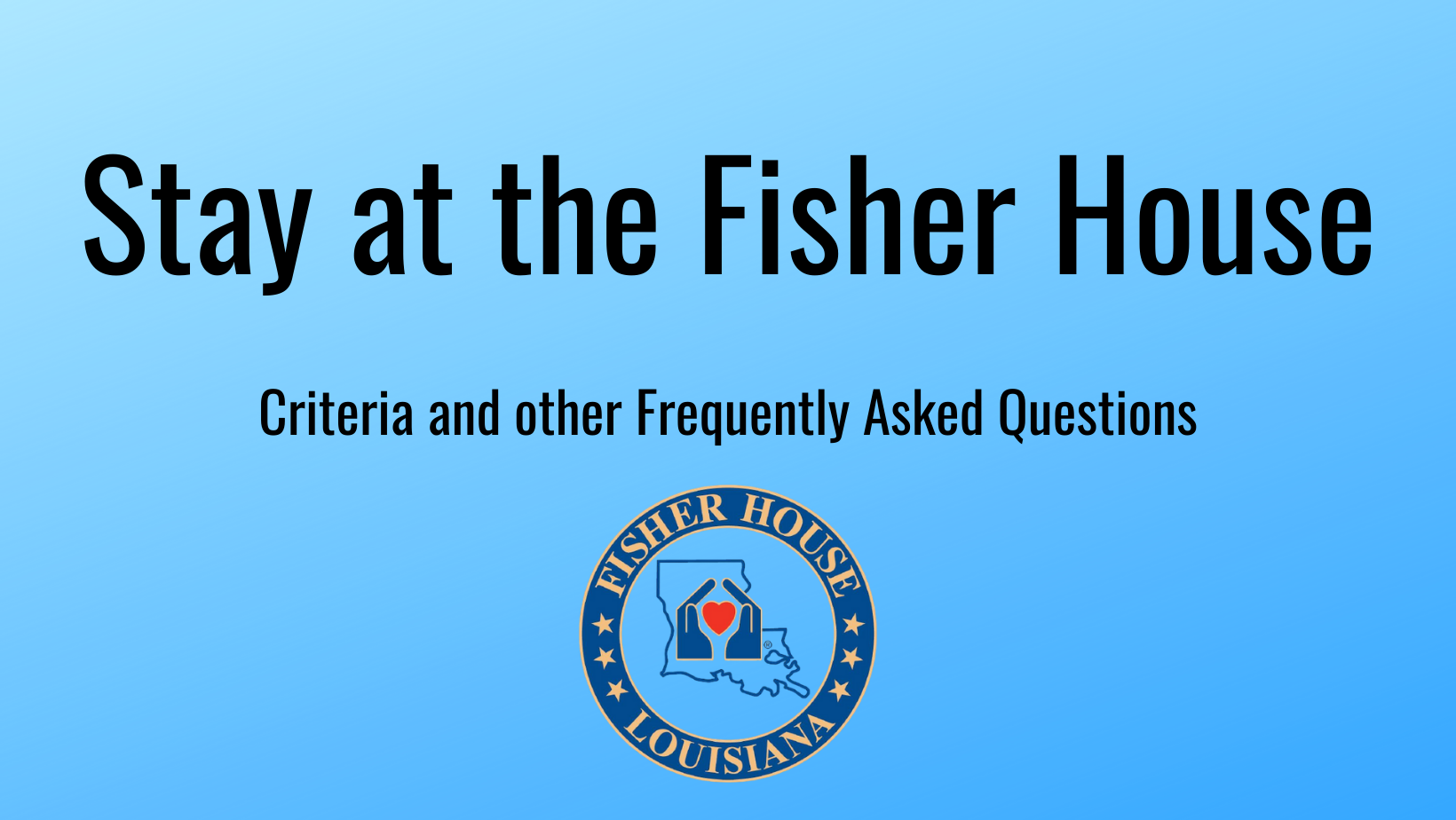 FISHER HOUSE OF SOUTHERN LOUISIANA CONTACT INFORMATION
ADDRESS –
119 S. GALVEZ ST., NEW ORLEANS, LA 70119
What are the Criteria for Veterans / Families to stay at the Fisher House?  
1. Person receiving treatment must live more than 50 miles away using distance shown by MAPQUEST.
2. Veteran or active-duty member is admitted to Southeast Louisiana Veterans Health Care System Medical Center (SLVHCSMC).
3. Veteran was Honorably discharged.
4. Veteran is admitted to hospital in New Orleans area and was sent to the facility by way of the Choice Program or newly-funded VA Mission Act Program.
5. Sent and being funded by their VA hospital from their home area.
6. Accepted by OUR VA and then referred to outside facility.
7. Person staying in Fisher House must be capable of 'self-care'.
8. Person staying in Fisher House must have no known communicable disease.
9. Person staying in Fisher House must follow the rules and policies set for all guests.
10. Veteran or active-duty member MUST have a caregiver to be in the Fisher House.
*Are there exceptions? There are always exceptions. They are determined in a case-by-case basis. Exceptions are not always granted. But to start, it is required that a Social Worker place a consult when an exception is required.
FREQUENTLY ASKED QUESTIONS
What is the process for a Veteran / Family to request a stay at the Fisher House?
From the VA standpoint, a consult is submitted through CPRS. The Fisher House is treated as a clinic for purposes of requesting a reservation. Fisher House NEVERS guarantee a room, but rather state they are on the Fisher House waiting list.
Who initiates the clinical request for Fisher House stays?
Any clinician can submit – if that clinic authorizes. We prefer SWs but accept anyone who can place a request for clinics.
If a Provider has a candidate, whom do they contact to initiate the request?
The provider can place it themselves or ask another clinician to submit. SLVHCS is a training hospital, the doctors rotate often so best if someone else places the request.
What is the turnaround time for a Fisher House Request from Request to confirmation of reservation?
24 hours.
Is there a limitation to how long they can stay?
There is no limit as long as the Veteran is receiving ongoing care/appointments.
What is the COVID screening process for occupants?
Daily temperature check and verbal questionnaire. Guests are required to sign a document stating the results of the questions.
Are there "Set Times" of arrival?
Guests will be instructed to report after 1:00 p.m., this gives the housekeeping staff time to turn the room.
Will the occupants have access to the exterior doors?
All exterior doors will be accessible to guests for exit and entry. Guests will be issued a magnetic card to access their assigned room and exterior doors.
What if the Veteran arrives after hours for a scheduled reservation?
Fisher House staff will remain on site NLT 6 p.m. to check guests in. Guests will be encouraged to arrive before 4 p.m. and informed that if they do not arrive by 6 p.m., they will not be able to check in until the following morning.
How does an Urgent after-hours candidate gain access / reservation?  (ED)
If a person is coming in for an appointment that was scheduled late, and the Fisher House staff was notified in advance, arrangements will be made to accommodate the patient and their family. Otherwise, the guests will have to wait until the following morning to check in.
Are animals allowed in the Fisher House?
Assist animals – yes … comfort animals – NO…. and if the Veteran needs the animal and arrives with the service dog, fine. But as soon as the Veteran is admitted to the hospital, the service animal is now a 'pet' and must be boarded.
Is there a limitation on the age of the occupants to stay?
Normally – no. Right now, no one under 18 is allowed.
What if there is an emergency overnight?  Who do they call?  (Medical or Safety)
They call 911 from a room phone. Connects to the VA emergency and the operator takes care.  VA police show up but are limited to what they can do.  Since there is no ambulance or fire fighting equipment on campus, ALL emergencies route through City of New Orleans emergency services.
Are there scheduled rounds by Police Service?
Yes, VA Police has incorporated rounds in their daily schedule.
What is the process for "Checkout", and what are the checkout times?  What if it occurs after hours?
I have a checklist for the guest to go by. Checkout is scheduled for 11 a.m. but will coincide with the Veterans' discharge. It is suggested the Veteran stay in the house overnight if a late discharge is given, but not obligated. Fisher House is not a 'recovery' room and will not be used as one.
What is the process for cleaning the rooms?  Frequency?  Linen?
Guests care for themselves. Housekeeper will give guests linen if they and new towels when needed. Housekeepers do not go into the rooms daily. When a guest checks out the housekeeping staff cleans from top to bottom to prepare or the next family.
Criteria and Eligibility for Lodging
Guests must be medically stable and capable of self-care or be accompanied by an individual able to provide the necessary care. Guests must be independent with mobility when using assistive devices such as a cane, walker and/or wheelchair. VA does not provide nursing or other medical care in VA Fisher Houses. The Fisher house does not provide attendants, medical equipment, escorts, catering or maid services.
Guests must be required to travel at least 50 or more miles or at least 2 hours from their home to the VA medical facility. Exceptions to these distance or time provisions may be made based on extenuating circumstances, such as inclement weather, road conditions or the mode of transportation used.
Guests must be able to stay in an unsupervised setting.
Guests must be actively involved in the hospitalized Veteran or active duty Service Member's treatment plan and provide ongoing bedside support during the episode of care.
All guests will be required to provide written documentation that must include a picture ID, such as a state issued driver's license or ID card, with their permanent address to check into the Fisher House.
Decisions concerning VA Fisher House accommodations are to be made by the VA medical facility's Fisher House Manager. If the Fisher House is full, the referring social worker should assist the family with exploring other potential lodging options in the community.
Fisher Houses are not to be used to accommodate unaccompanied Veterans or active duty Service Members, or individuals in need of transitional or permanent housing. The Fisher House will not be used as a shelter for homeless Veterans, patients or their families.
Veterans or active duty Service Members with a Category I Behavioral Patient Record Flag (BPRF) in the Computerized Patient Record System (CPRS) may be considered for VA Fisher House accommodations. The Fisher House Manager is to consult with the local Disruptive Behavior Committee (DBC) who assessed the Veteran or active duty Service Member and request their re-evaluation to determine if VA Fisher House accommodations are appropriate.
Veterans or active-duty Service Members with a Suicide Risk Flag may be considered for VA Fisher House accommodations just as they would be otherwise. The Fisher House Manager may consult with the facility Suicide Prevention Coordinator to determine if there are any current follow-up requirements or need for continued re-evaluation during the VA Fisher House stay.
Individuals with a communicable disease (e.g., influenza) which may be transmitted through common contact cannot be accommodated at a VA Fisher House. Guests must disclose any exposure to, or presence of, a communicable disease. Guests with a contagious or infectious condition may be asked to find alternative lodging.
All children under the age of 18 must be supervised by a family member or guardian at all times. The Fisher House does not provide childcare services or supervision of children. Failure to maintain control of children or clean up after them may lead to guests being asked to leave the Fisher House.
Guests are required to abide by all Fisher House guidelines and rules while on Federal property and must respect the rights of other guests as well as contribute to a supportive and caring environment. Failure to abide by the VA medical facility and VA Fisher House rules may result in guests being asked to leave the VA Fisher House.
No fees may be charged to guests for temporary lodging in the Fisher House. Donations can be accepted for deposit in Fisher House General Post.
The Fisher House Manager has the only authority, other than the Medical Center Director (MCD), to make exceptions to any of the above lodging criteria. The Manager's decisions are final.
All eligibility determinations will be made in accordance with the policy herein identified. Eligibility will not be established to intentionally include or exclude any recognized classes of persons including, but not limited to, sex, race, color, ancestry, age, national origin, sexual orientation, familial status or disability.
Referral Process
Referrals/consults are accepted Monday through Friday during Fisher House administrative hours. Referrals after administrative hours must be coordinated through the AOD. Lodging cannot be guaranteed on the date(s) requested. A referral does not equate to acceptance or availability. All guests must have a CPRS consult to be considered for lodging. All accommodations are granted on a first come, first served basis and no reservations are accepted. The Fisher House Manager will be responsible for approval/disapproval of all guests and will make all room assignments.
The patient's VA Health Care Team that is coordinating the related episode of care must have a Social Worker conduct a thorough screening interview and complete the electronic consult in CPRS to request Fisher House accommodations for the individual. The Fisher House Manager will receive all consults and will review for eligibility. The Fisher House Manager or other Fisher House staff member will notify the referring treatment team and Veteran and/or accompanying individual of the lodging status.
Accompanying individuals who meet Fisher House eligibility criteria will be assigned a room on a space available basis. Specific room type requests cannot be accommodated and only one (1) room may be assigned for each patient family group. Requests for VA Fisher House accommodations are processed in the order that they are received by VA, and VA Fisher House accommodations are granted on a first-come, first-served basis; however, in extraordinary circumstances, such as imminent death, critical injury, or organ donation, requests may be processed out of order.
When the Fisher House has no vacancies, the Manager may utilize the Fisher House Foundation Hotel for Heroes program to accommodate guests at a community hotel. Guests will be required to transfer to the Fisher House as soon as a room becomes available. During times of high or full capacity, the Fisher House Manager may give priority and special consideration for Fisher House lodging to accompanying individuals based on the following criteria:
Patients actively dying
Patients admitted to any ICU
Patients admitted to an acute Medical Unit or surgical unit
Should a referral not meet lodging criteria, the referring social worker should assist the family with exploring other potential lodging options in the community.